How Did A Mechanical Engineer Successfully Build A 44K Tik Tok Following As A Digital Artist?
I saw a bright young smile appear in my video call. Filled with friendly enthusiasm, this lady was one young Muslim artist that came up with confidence when she started talking about her art.
Norlisa Ramlee graduated with a Mechanical Engineering degree in 2020. Unfortunately, due to the pandemic situation, it has been extra challenging for her to secure jobs in her industry. With little hope left, she turned towards her inner passion and decided it's time to pursue what she was always meant for, ART.
I had the pleasure to chat with her virtually. In case you don't know, some of her designs can be seen on Shopee.
When was the first time you discovered your passion for art?
It started when I was young. I couldn't recall what the exact age was, but I remembered seeing my father making all these oil paintings at home. The way he drew and coloured fascinated me a lot, and I believe it was when I finally found my passion.
Was it terrifying to quit your mechanical engineering journey and pursue art full time?
It was indeed! During my study days in university, I remembered to spend my time drawing and making art almost every day. However, I wasn't sure if I was ever going to make it full time. After graduation, I applied for many engineering jobs, and none of them succeeded. It seemed like a sign that showed me I was not meant for this field. Hence, I just decided it's time to go full force on turning digital art into my full-time career. My parents were worried at first. Nevertheless, as time went by, my Tik Tok and brand collaboration success had changed their mind.
"Surprisingly, my followers on Tik Tok grew from 0 to 44K in just 5 months."
Did you face a very tight competition?
I did. As I didn't start out making art as part of my degree, it wasn't easy to gain trust from the public at first. So, I started from scratch by helping my friends out. Over time, I managed to build up my portfolio, shared my designs online, and opened a Tik Tok channel. Soon, some brands noticed my work and came to me for collaboration.
Sometimes, I would organise live stream sessions with my fans. The highest view I had was 100K views. The average number of video views I could obtain is 5000 to 100K views per video.
How would you describe your design style?
Cute and simple illustrations, that's my kind of style. There are 2 types of audiences I can reach with such a style. Adults usually prefer mature-looking graphics, whereas kids would prefer ghibli, chubbier looking characters.
Which project collaboration has been the most memorable to date?
Oh, there was this local F&B brand called Chocotum. The company makes snacks out of chocolate and Nestum. Their representative engaged me to design a packaging for their limited edition box set. I've even done a Tik Tok video about my drawing. Surprisingly, that product became their bestseller, and many buyers fell in love with the box.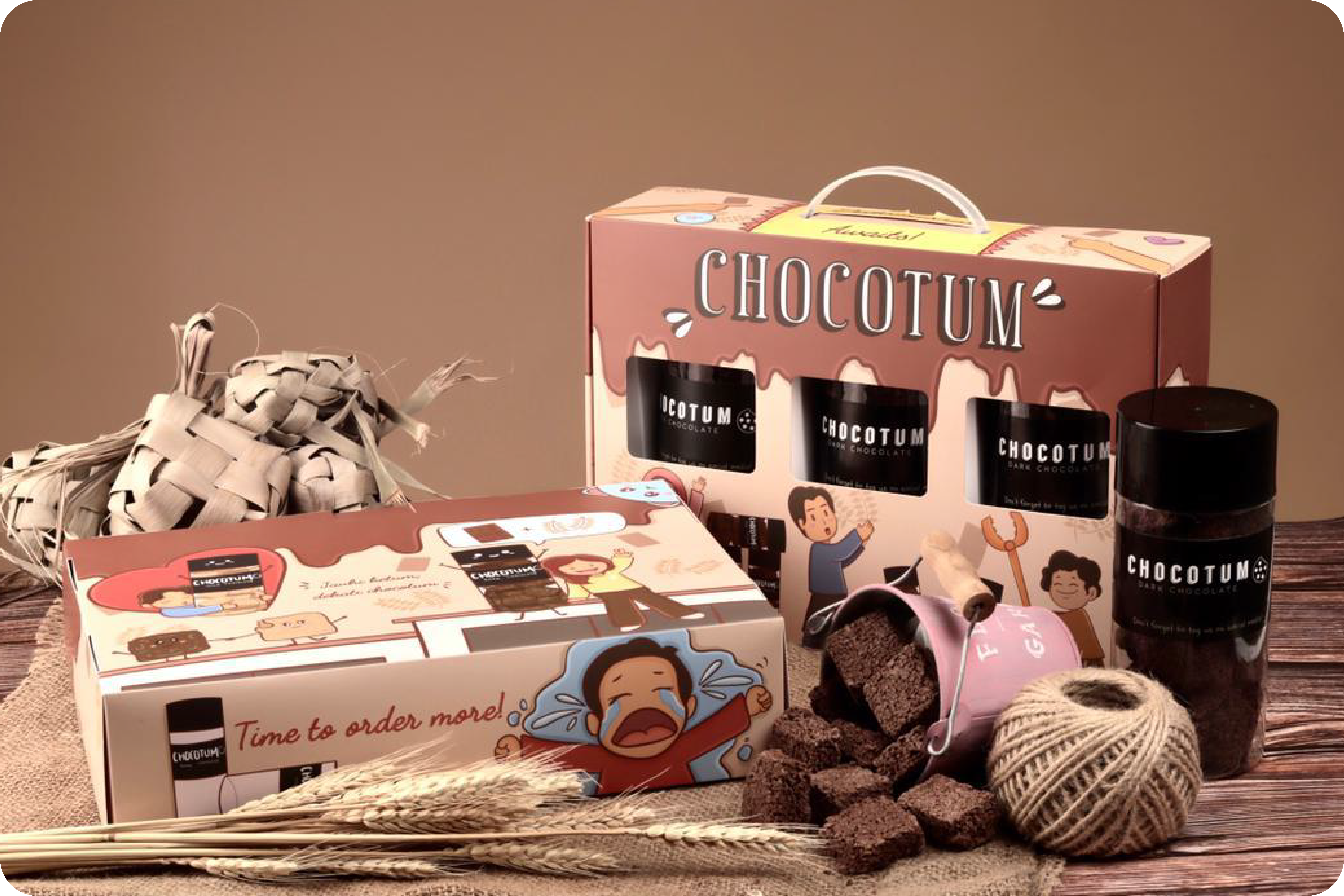 Where do you usually find your inspiration?
I have always been very fascinated by this Instagram famous designer, Bunga dan Bintang. She once collaborated with "Mimpi Kita", which is a homegrown Muslim fashion brand. Though her art style is very different from mine, I like how she grows her Instagram channel and showcases her artwork.
Name your best top 5 artwork.
Jeez! There are so many to choose from. The best 5 for me would be (in no particular order):
What are your future career aspirations?
I am very affirmed that this is the path I want to continue forever. Currently, I'm a part-time art teacher that opens up classes every month. So I hope to open up a studio for myself and teach bigger classes. In terms of brand collaboration, the Duck Group has always been my dream brand to work together. I love their tudungs, fabric and company culture.
How would you hope to inspire the Malaysian digital art community?
As a digital artist, I often get questioned by traditional artists about my style. Most of the time, I get doubts from them, thinking that this is not real art. I can't help but admit that traditional art requires a detailed understanding of colour theory, dimensional drawings, shading techniques and more. However, as technology has heavily disrupted our modern-day lives, art is no longer like the past old days. There are more styles, techniques and forms to express, which I believe not all of them are easy to grasp.
So I hope through my efforts, one day, I can change the perception of how people view digital art.
How did you come across St!ve Asia?
At first, a representative from St!ve Asia approached me to leverage the platform as a mechanism to monetise my artwork. Since I'm still new to the system, I've uploaded some of my food stickers to give the crowd a test. Though the platform is relatively fresh, I believe it can provide Malaysian artists with a chance to be seen in this local market.
In terms of my user experience, I find it very convenient. Loading time is quick, and there aren't any hiccups. There's even a section for businesses to approach designers directly.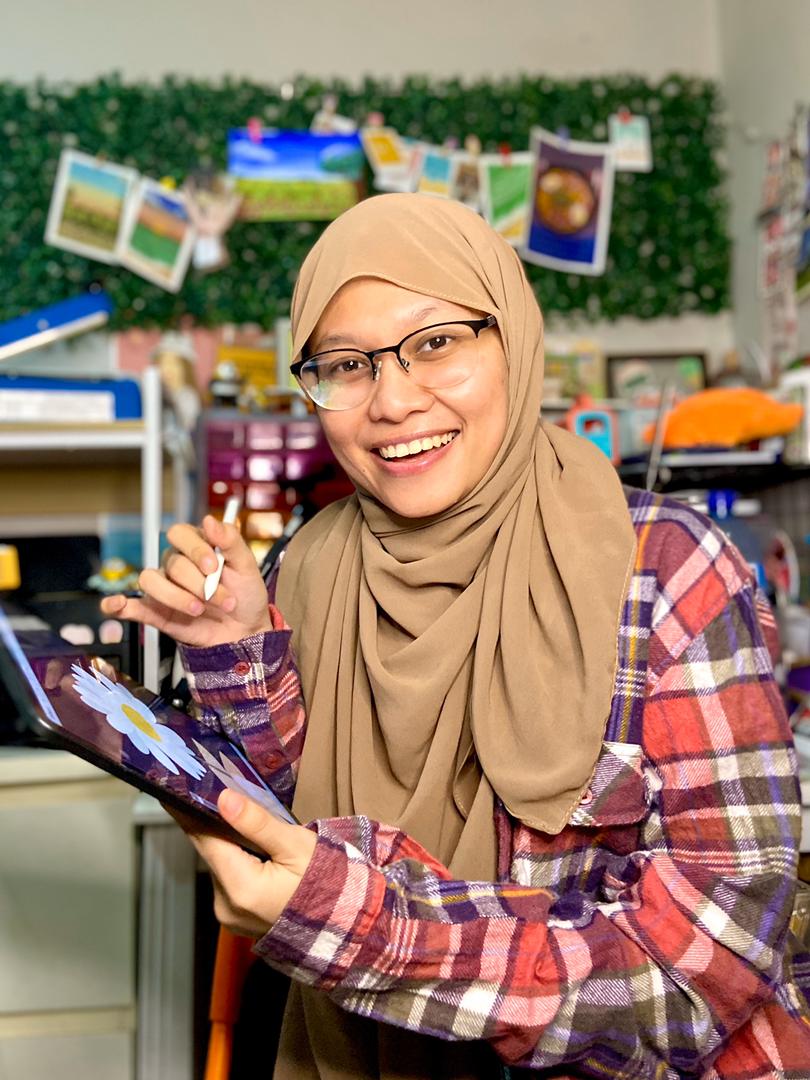 Norlisa Ramlee
✦ St!ve Asia: www.stive.asia/creator/ggatorart
✦ Tik Tok: ggatorart
✦ Instagram: ggatorart