Nixon Siow: The Malaysian Comic Artist Who Made A Crazy Rich Guy Went Viral On Facebook
You may see his comic being reshared hundreds of times on Facebook. You may laugh out loud whenever you see his funny comical storyline. Nixon Siow, the author of comic stories "Like That Also Can, ah?" and "Crazy Rich Guy" is an outgoing man with much humility despite his outburst of fame on Facebook.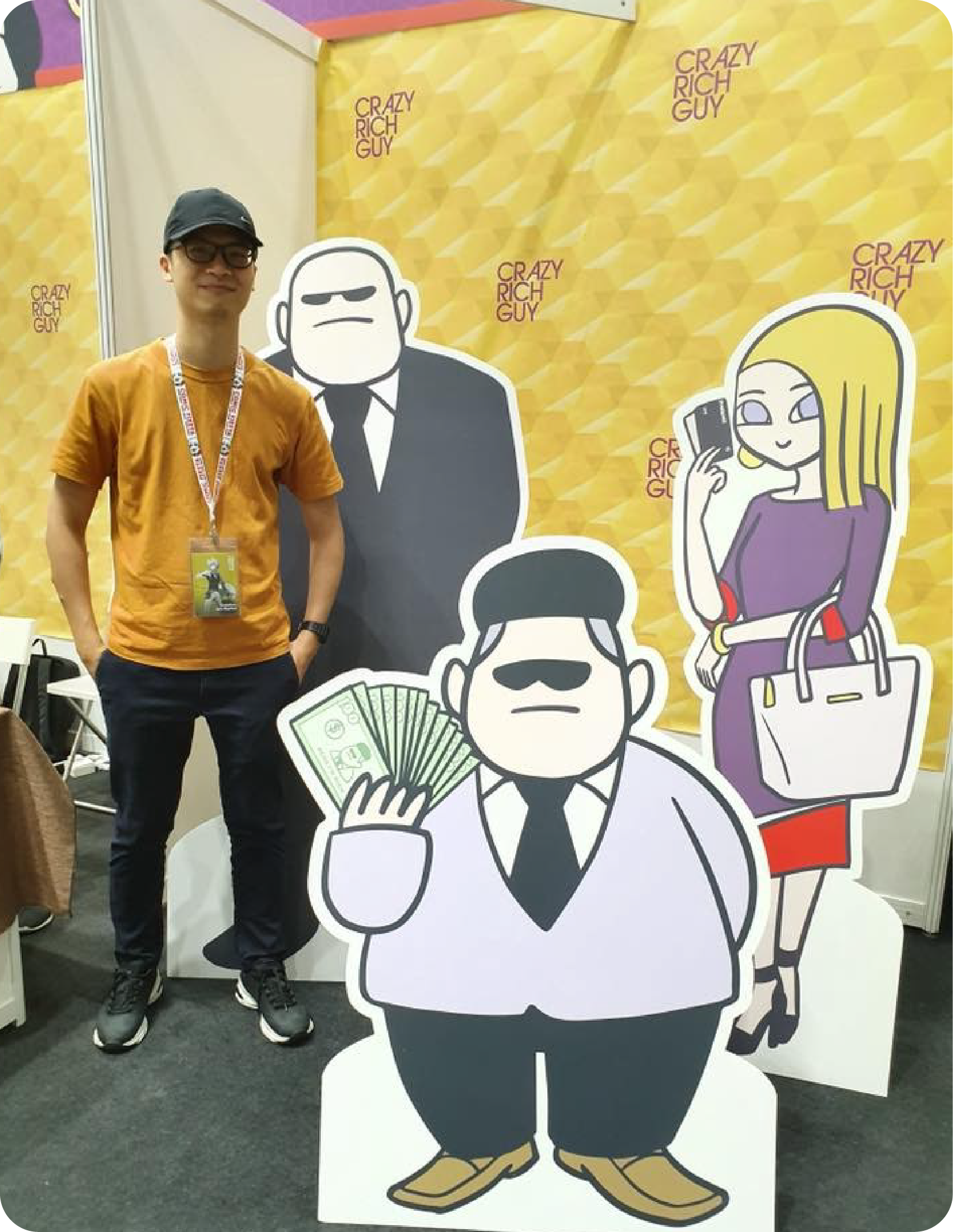 Stive Asia is delighted to feature Nixon as one of our artists this September. On the outside, his appearance does look like one of his comic book characters - tall, skinny but without red hair. Most importantly, he is full of wisdom and spot-on opinions on topics surrounding Malaysia's art industry. But, where does this young man get his storytelling inspiration from?
When did it all start?
First of all, Nixon did not grow up in a family of artists. His family considered him as the black sheep who was the only one with artistic and creative talents.
"Since I was young, reading comic books was my passion. You would see me holding one in hand whenever I was at school, in a hair salon or at home. I was attracted to their storyline, and I could form a very deep connection. The combination of humour and emotion, that sparked my interest at the very first glance."
When primary school came around, Nixon started creating his own comic storylines. They were nothing big and relatable like today, but it was a kick starter for him to get feedback from his peers about his comic drawing skills. Surprisingly, they were blown away by his creativity.
As college came by, social media was yet a big hit among teenagers. So he uploaded some of his drawings on Blogspot hoping to get some views and likes. Sadly, they weren't as appealing as he expected.
The beginning of his empire
Graduation came and it's time to snap out. Like all his peers, Nixon entered into the working world with his first full-time job as an in-house designer. Comic drawing was still his side hustle back then, but it was very hard to manage both at the same time.
"I couldn't deny the fact that my passion was about drawing comics and I came to the realization that a calling was waiting for me to achieve."
Nixon finally mustered up his courage to resign from his job and became a part-timer for his company. Though his comic drawing business wasn't generating any income, he decided to pick up a few freelance jobs to sustain himself while building his 'empire'.
2012 marks the beginning of his Facebook page and since then, miracles have happened out of his wildest imagination. Users started to notice his 'Like that also can, ah' stories and in only a week, his page rose from 0 to more than 1000.
However, this wasn't the most followers he had in a short span of time. During the lockdown period in 2020, one of his Crazy Rich Guy stories was reshared thousands of times and in ONLY one day, his followers doubled to 120,000.
A new venture in book publishing
It was Nixon's dream to always have a book published under his name. His first book was a Chinese comic book funded using his own savings. Though it didn't get much return and recognition, he went on to publish his next book "Like that also can, ah?" Thanks to his huge following on Facebook, his new book was funded by publishers and managed to generate a huge hit. Nevertheless, in Nixon's opinion, publishing books in Malaysia is not the most fortune generating business.
"Though it's a bestseller, it's still not enough to create a full income on its own, and 2018 became my worst year ever as I was focusing my income on publishing and freelancing. From what I see, the publishing industry is still young in Malaysia, and unlike other countries, we don't do much merchandise, films and tourism concepts that introduce literature. Hence, don't expect massive income growth from selling books."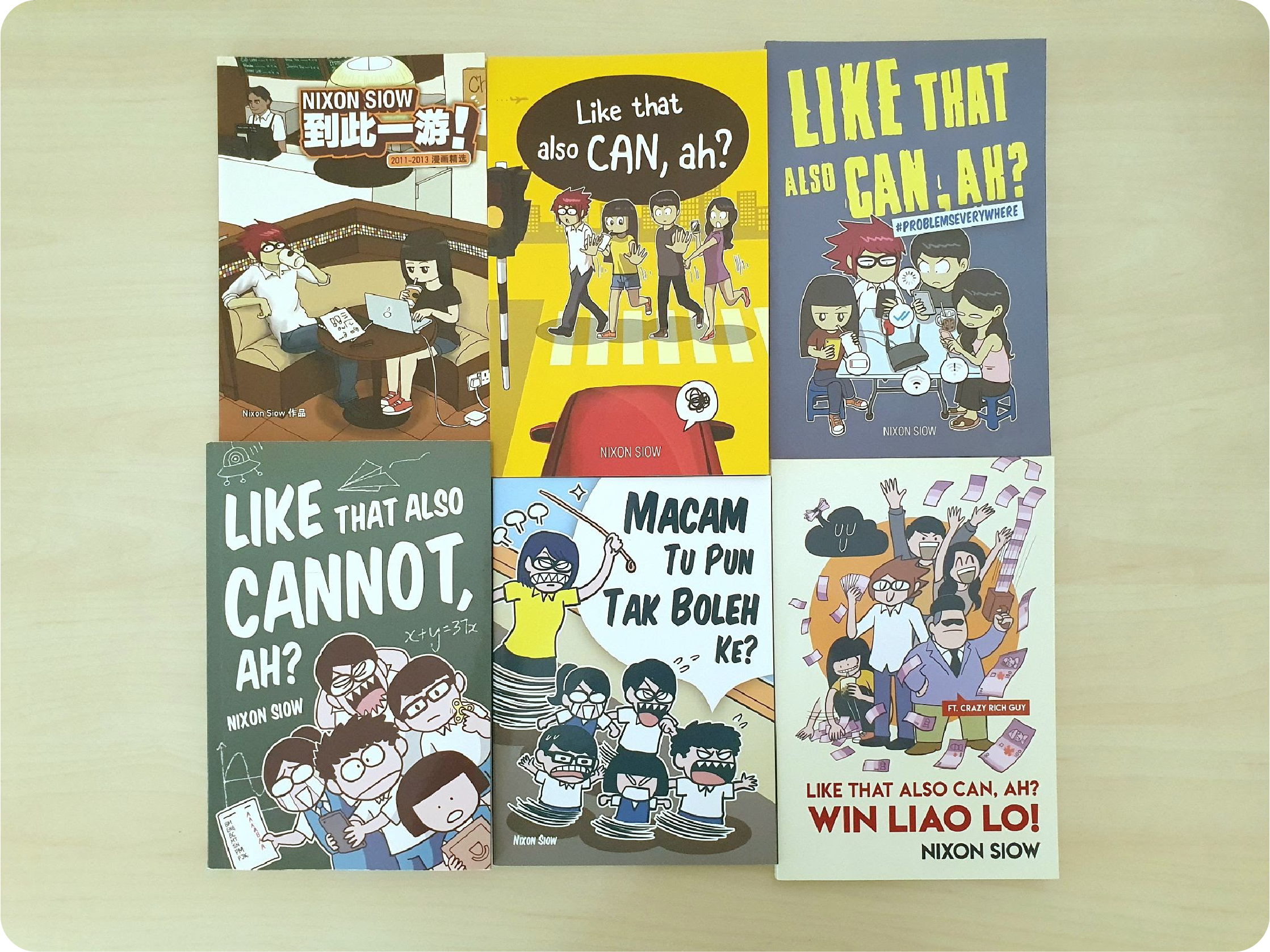 (From top left to bottom right: Nixon has published 6 books in total and his first book was the Chinese comic book at the top left. His bestselling book to date was "Like that also can, ah?" series and one of the books was later translated to Bahasa Malaysia.)
What's next for him?
Ever since his stories went viral last year, multiple MNCs and business enterprises are approaching him for collaborations. In return, Nixon gets better pay from his B2B collaborations as compared to his publishing ventures. One of the most significant projects he had was drawing comic content about our government's latest Home Ownership Campaign for JKG Land.
Besides, Nixon has started venturing into NFT, the hottest marketplace for art investment right now in the cryptocurrency space. To him, this is the new future for emerging artists and designers. It shows that we don't necessarily need bazaars, events and auction conferences to bid exclusive art.
Advice for the emerging artists
With the new norm kicking in this year, offline opportunities are no longer feasible for emerging artists and designers. Whether it's events, exhibitions, conferences, bazaars and tourism, Nixon believes emerging artists and creators will need to shift their approach online. For instance, post your work on social media, advertise your work on freelance spaces, build a following, join community groups, turn your work into stock features and more.
Online is the trend and content is king. Like what Bruce Lee said, we must be like water to create something new. So if this applies to you, make sure you take note of this 3 advice from the great comic artist himself:
✏️

Be persistent. Success is always one step closer when you don't give up.

✏️

Understand your market. Good artwork needs good marketing. Without good marketing, you won't reach far. Always be curious about what your market wants. Research and compile some ideas to market your work.

✏️

Be brave and take risks! Don't be scared about not having money. There will always be thousands of ways to make money without a full-time job. Sometimes, throwing yourself into the unknown will allow you to see what you truly want in life.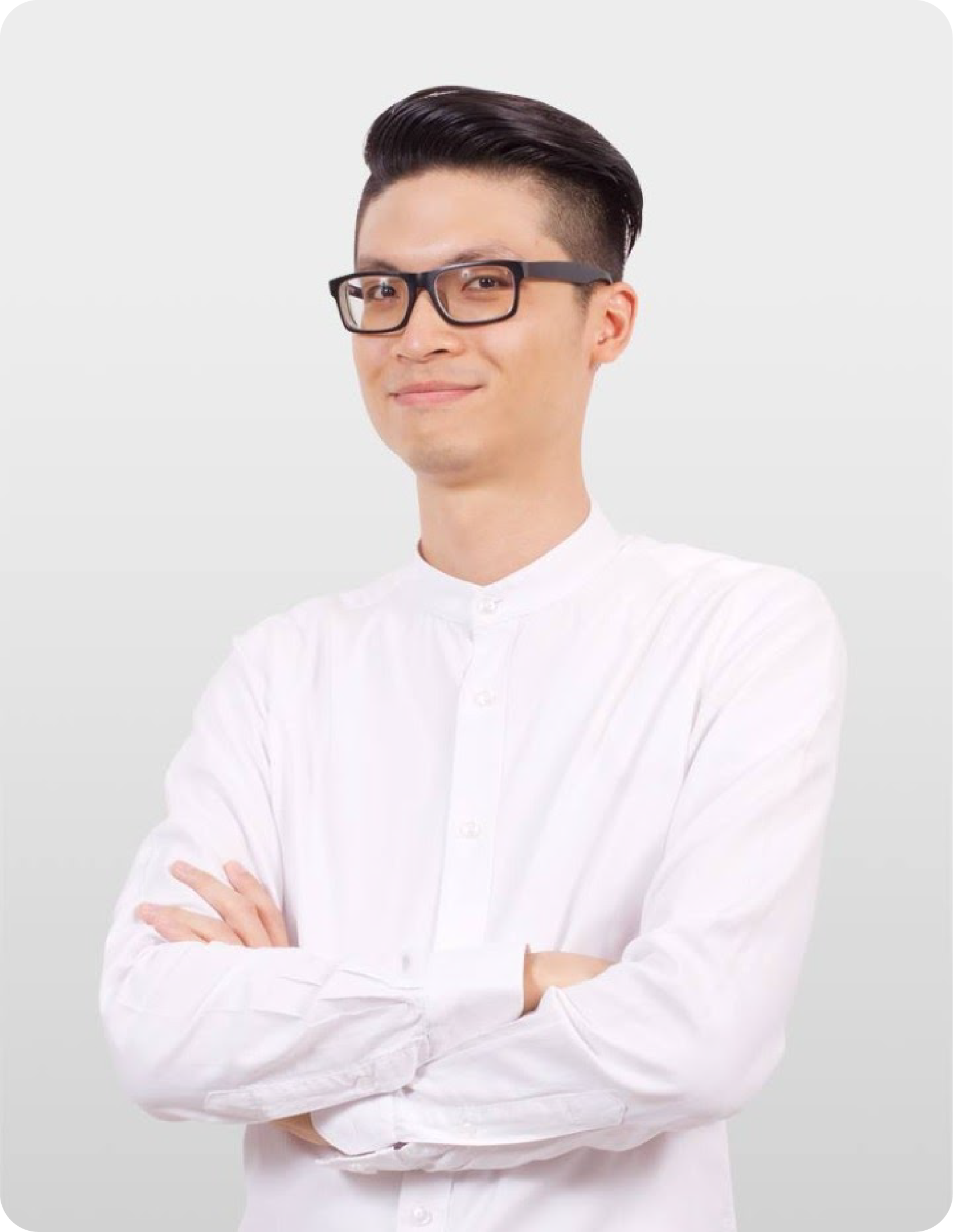 Love his advice? Upgrade yourself from reader to his fan by following his social media:
⭐ Instagram - crazyrichguyig
⭐ Facebook - Crazy Rich Guy
⭐ NFT - Crazy Rich Guy
---
For more advice from inspiring artists and designers, follow Stive Asia on Instagram and Facebook for the latest updates.