These 7 Uprising Must-Watch Artists Showcase What It Takes To Push The Boundaries of Imagination
Visual art is one of the most compelling forms of storytelling. From the choice of medium used to the colour palette selection, art is meant to invoke something deep within our souls – better yet, speak to the audience.
Yet, what makes art good is the story it tells and the meaning it expresses.
What it takes is having a truly great artist spin it into a masterpiece.
These 7 uprising artists may be new in the scene, but their designs, ideas, craft and skill will simply blow you away.
1. Bellterax
A whimsical artist named Bella, this artistic genius is currently a freelance creator and describes her art style as "simple, but delicate." WIth Timothy Von Rueden as her idol, it's clear where this award-winning artist draws her inspiration from!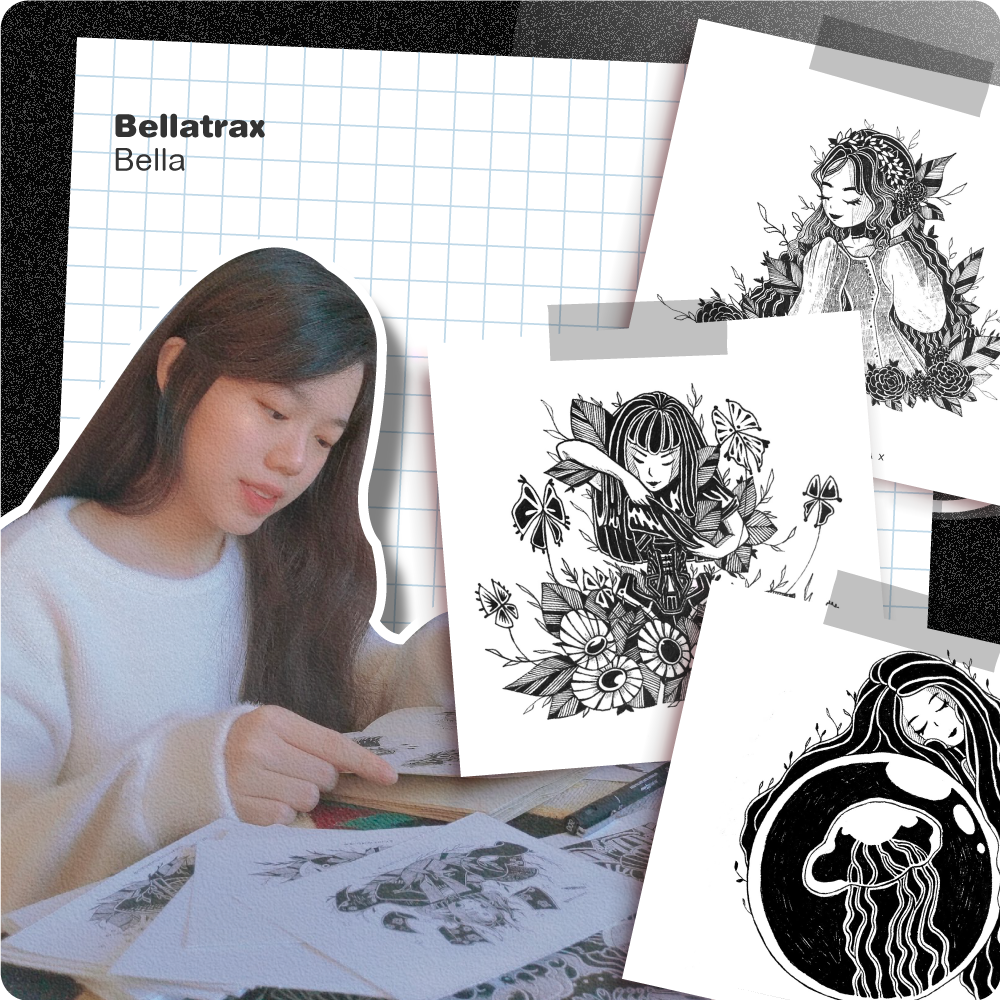 Bella also shares that she occasionally accepts commissions, and considers the time is well-spent on creating more work and improving her skills. Make no mistake, this brilliant artist is also the winner of the International Online Top 10 Outstanding Artist Award 2020!
She explains that she usually spends her time taking part in activities or competitions, and creating her own works – and just looking at how everything is paying off!
But just like everyone else, Bella has had her ups and downs as well but she chooses to not dwell on it too much in order to spend her time on her work. Something she would like to tell her younger self would be "You are really great!" and "I love you". In the future, on the other hand, she aims to be a more comprehensive artist.
Be on the lookout for more dreamy, magical pieces from her!
2. Daisy Dalia
Integrating minimalist portrait illustration with gorgeously detailed Malay culture has never looked more pleasing!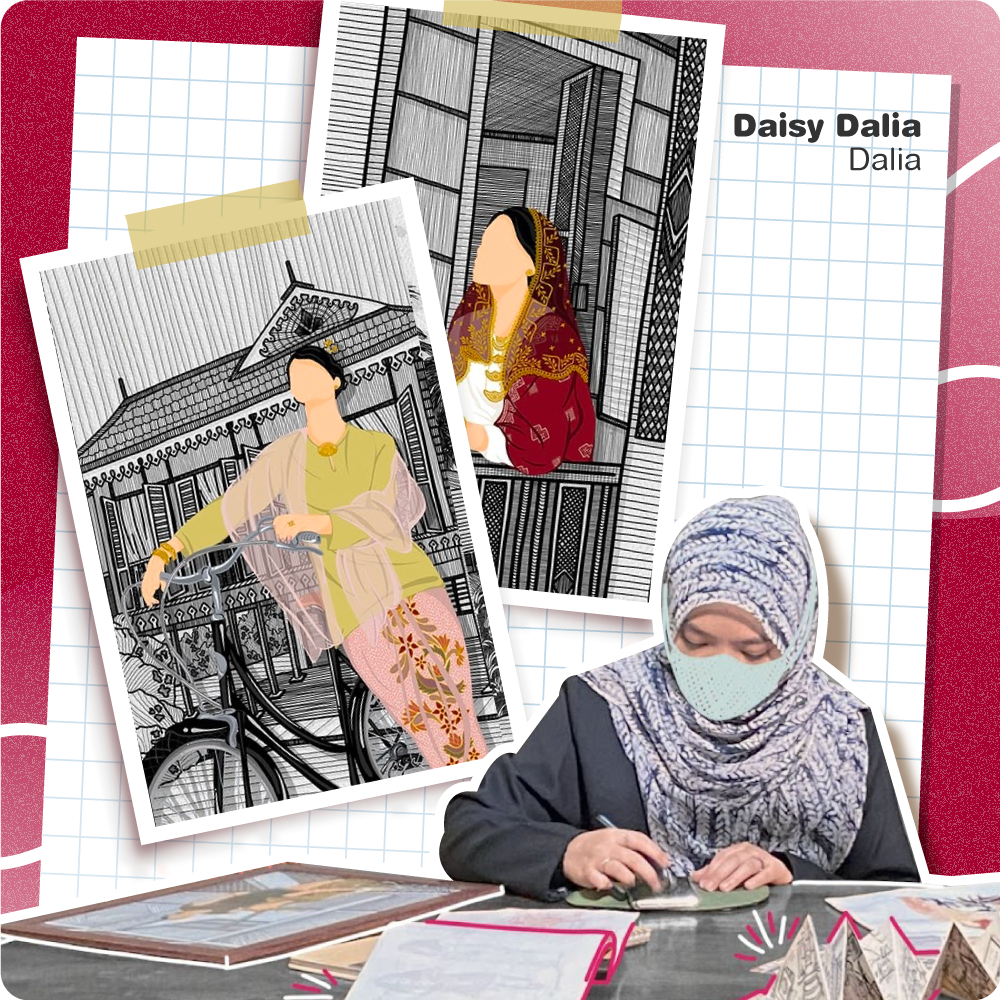 Hailing from Kuching, Sarawak, Dalia graduated with a degree in architecture in the year 2020, right when the pandemic began rearing its head. Although the situation dampened the young artist's final year of university, this was what sparked her interest in digital art (silver lining, people!).
Just like most artists, Dalia had her moments of doubt. Despite not having a formal art education, she still managed to learn from other artists by observing them via social media and challenging herself.
She went on to explore different art styles before finally finding one that she is comfortable with, revolving around Malaysian culture while simultaneously striving to revive and conserve them. To help highlight the details and intricacy of her art (such as the Malaysian traditional outfit), Dalia chooses for the background to be in black and white to help the main subject stand out.
You may find Dalia's artworks being translated as merchandise as well, such as postcards, tote bags, stickers, money packets, and more!
3. fongdoodle
Invoking childhood nostalgia and using light colour palettes, Joyce Lum – the artist behind the name fongdoodle – is sure to take you back to your childhood days with her illustration of food and beauty products.
Ever since Joyce was young, her mom has always encouraged her to go to art classes and to participate in art competitions. But since a career in art was not very common, she decided to major in finance instead. It wasn't until many years of working that she found her way back and started an art account on Instagram.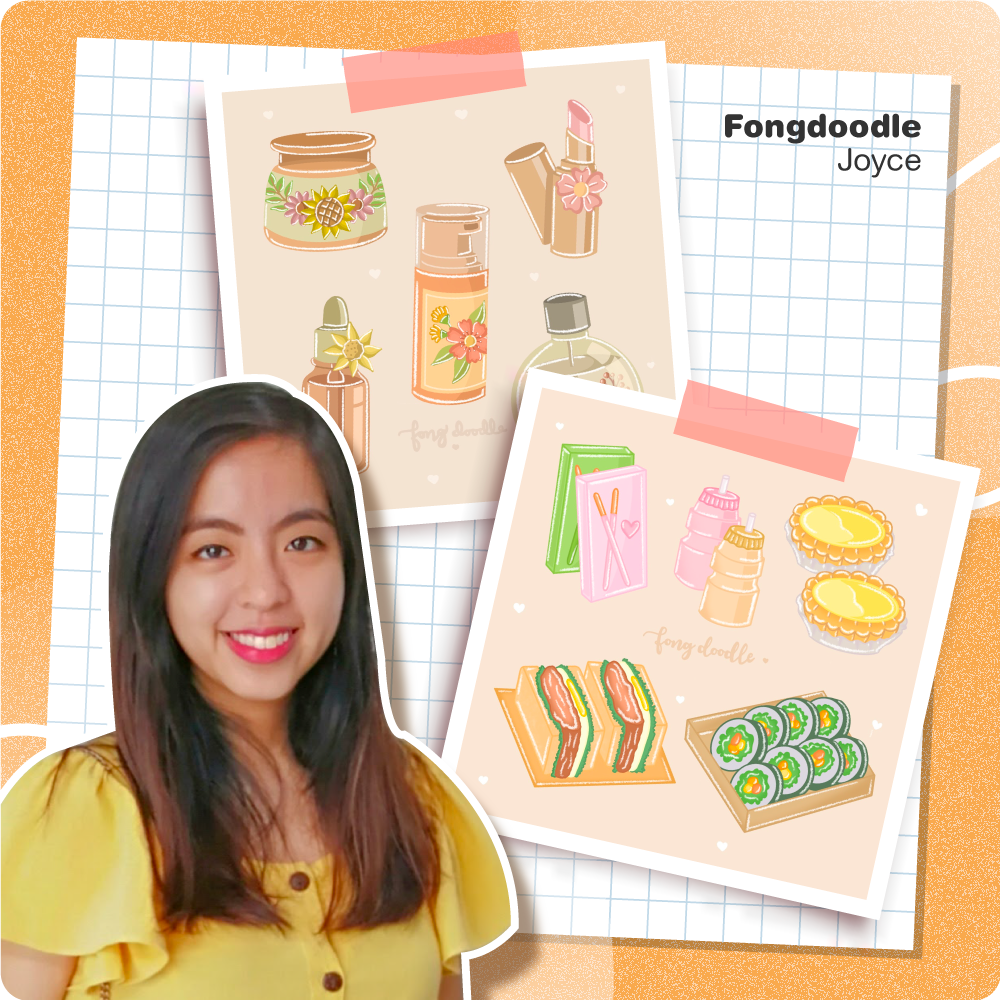 Citing plate.to.paper as her inspiration, she hopes to be able to create more artwork that people can appreciate and connect to.
When she was first starting out in the industry, Joyce reflects that her biggest mistake was not following other artists, as it was important to learn from each other and improve your art style. She also advises younger artists to stick to a unique style, and understand that success takes time as well as patience.
4. Inkbytz
Meet Tisya Zamros, a recent graduate of Bachelor of Arts in Interior Architecture!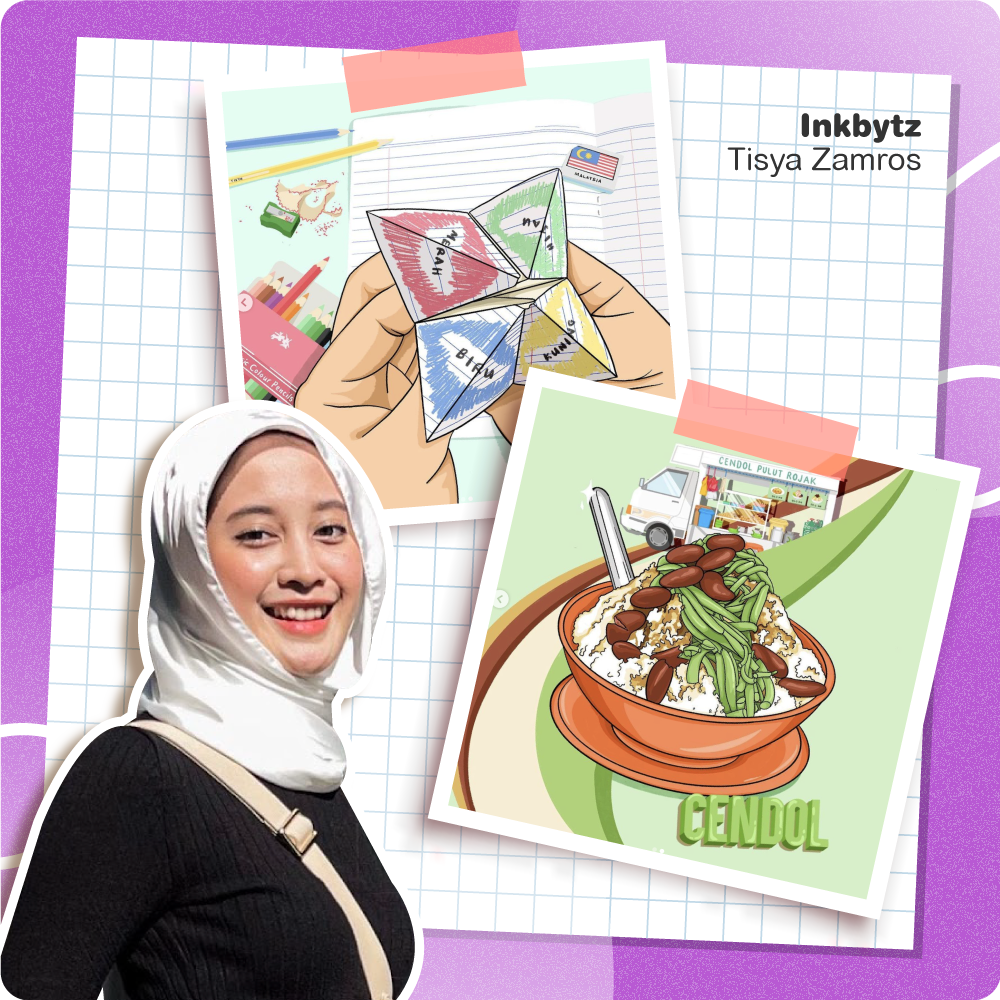 Her artistic journey officially began in 2019, although she has always had an artistic side since she was a kid. Visuals have always struck her as more intriguing compared to lengthy texts, and after learning programs like Photoshop, she has gotten into motion illustrations and is looking to continue exploring the limitless boundaries of creativity.
With illustration as her current side hustle, this interest has helped with her creative efforts in Interior Architecture (she had the opportunity to work on a project with a Core650 personal trainer from London!) She also shares that the most identifiable feature of her work at the moment is motion illustration, and appreciates how they are more engaging and allow storytelling in a very unique way.
Tisya aims to one day join a visual communication and advertising design course as it aligns with her long-term goal of having a multi-disciplinary practice that covers interior architecture and graphic design. And for young artists out there, she suggests trying everything – from painting, designing, and experimenting with other creative mediums.
Here we have tantalising art from Riynn Lee, aka mashpatooties, with gorgeous pieces that look like they were ripped out of a graphic novel.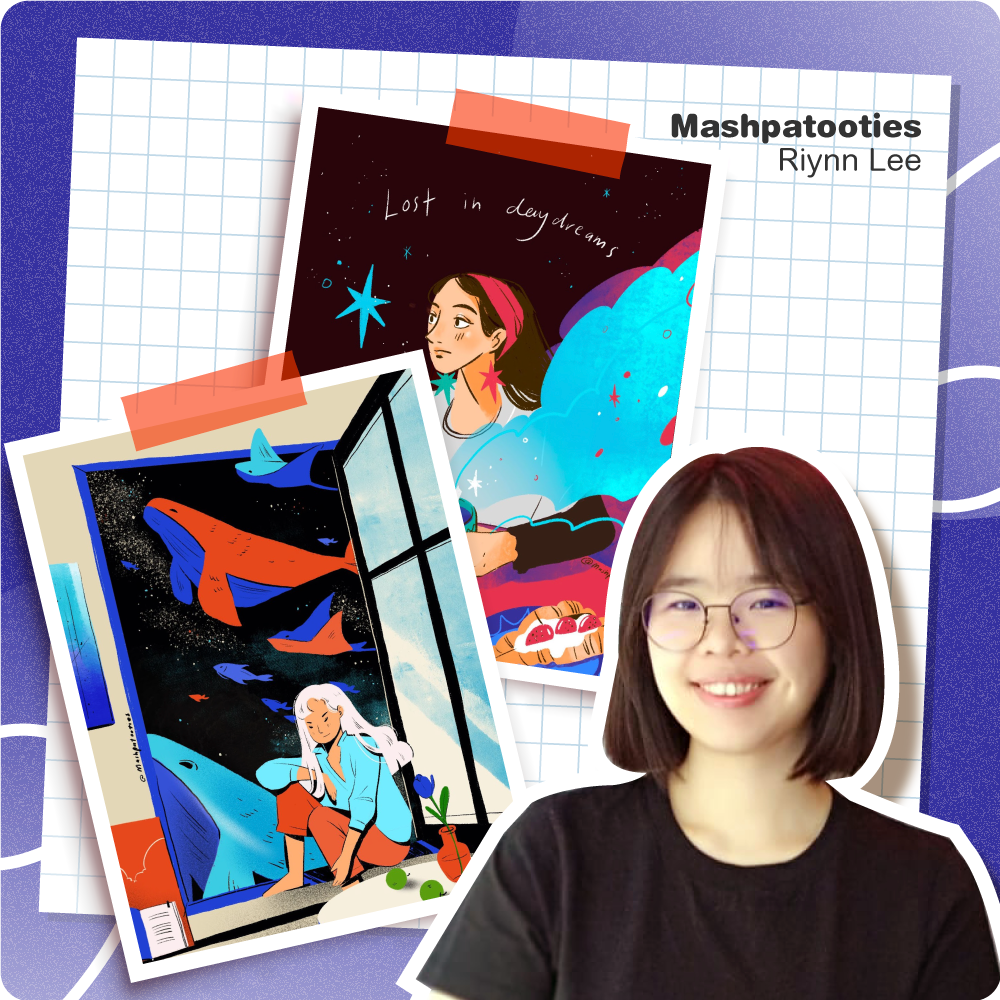 An industrial design student, she also does digital illustrations during her free time (she thanks her mum – who is also a good artist – for her influence).
It all began when Riynn did her internship at a small company in Taiwan. It was then that she realised her passion for graphic design and illustration, and the rest, as they say, is history!
A storyteller, Riynn enjoys creating scenarios that make the reader question the story more than what is shown, which can be seen from how her illustrations seem to convey a deeper story below the surface.
Despite her enormous talent, Riynn was unfortunately put on the chopping block due to the pandemic and lost her job. Feeling like a failure, she decided to take some time off before diving into digital illustration again – which made all the difference. This time around, she was able to understand herself better and figure out what she really wanted.
Due to this experience, she advises other aspiring artists to never lose their passion for their craft, and as cliche as it sounds, to never give up!
6. Pandoodle
Fantasy and anime fans, you are in for a treat!
Amanda, a Malaysian hobby artist who draws inspiration from Hayao Miyazaki, has a strong passion for exploring new mediums and trying out new things, and it definitely shows with the various art styles in her illustrations!
Despite holding down a regular 8 to 5 job in the office in which she works diligently, Amanda never lets it get in the way of her passion for her craft. It was about a year ago when she decided to start a passion project (Pandoodle Co.) in making cute handmade products with her art during her spare time.
And now, they have slowly expanded to merchandise such as notebooks, desk calendars, and memo pads!
Amanda is a huge fan of Hayao Miyazaki, the Japanese manga artist and co-founder of the famous Studio Ghibli. The movie that reeled Amanda in as a fan? It's none other than Spirited Away!
Two years ago, this brilliant artist was asked by Mossery to interview for their series: Mossery Rising artist. Not only that, Pandoodle Co. has also hit its one year mark as of the 4th of November 2021!
And it's only upwards from here.
7. W.h_o_
And last but not least, here is Hsin Wey who is currently studying interior architecture.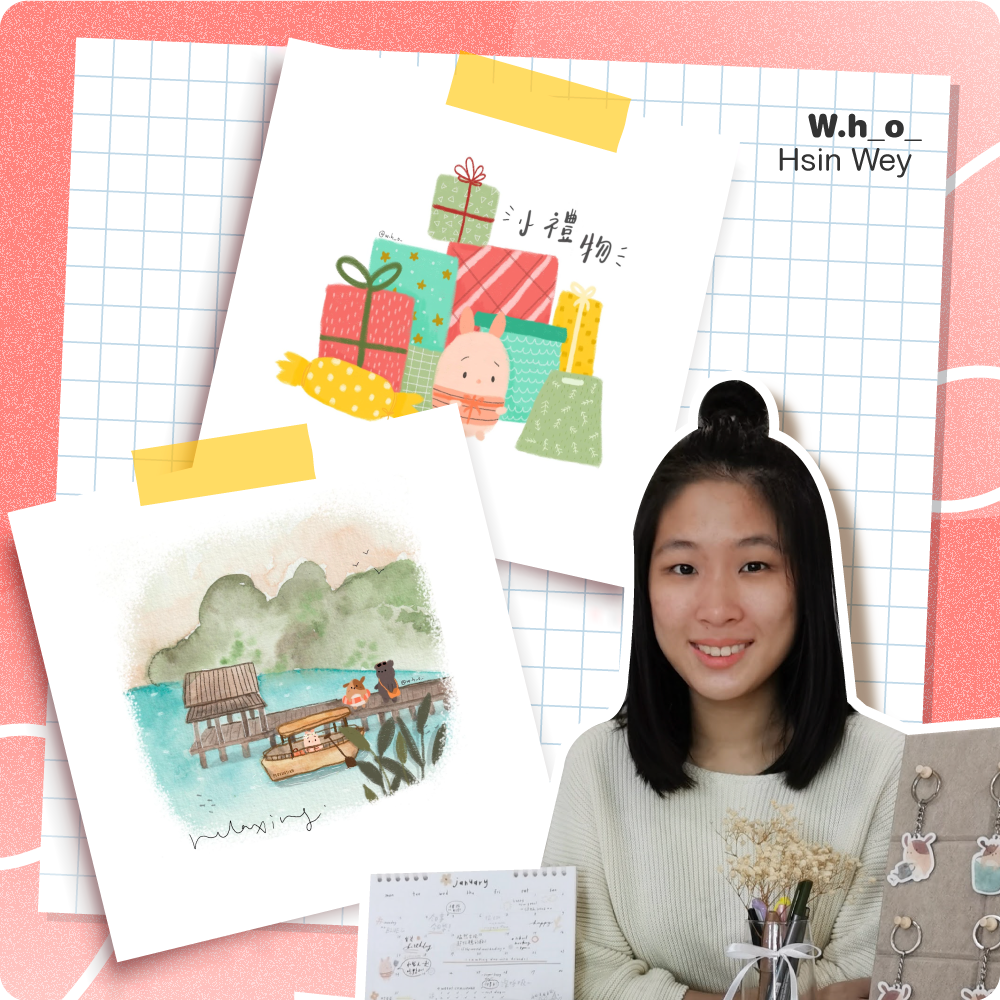 Starting from a young age, she has always loved to draw during her free time and absorbed inspiration from magazines. It wasn't until 2020 that she decided to create an Instagram account to share her drawings – mainly featuring the characters of Yubbie and Doggo, inspired by her sister's plush toys.
Hsin Wey describes the unique side of her artistry as a watercolour style that is gradually turned into mixed media (watercolour + digital). Most recently, she has started to explore digital illustration and play around with different textures.
Hsin Wey has sound advice for budding artists out there too, which is to never pay too much attention to numbers of likes, followers, and so on because it will only cause unnecessary stress! She has also achieved her goal which is to release a calendar and sticker design for the year 2022, keeping the flames of her motivation and passion towards art brightly lit.
This is only the beginning for this bright star!