3 Tips For Creating Killer Instagram Content
Introduction
In this digital era, it's important for artists, entrepreneurs, designers and freelancers to utilise social media as a platform to market themselves. This is because companies spend a large portion of their time on social media to scout for talent. Without a great strategy and planning, it's easy to give them a chance to lose sight of you.
Today, the artist we are introducing has achieved this extraordinary result with his cute, eye-refreshing illustrations that combine real-life experiences and animation.
Dudu De Doodle, also known as Kent, started drawing as a hobby to release stress from his full-time job. As a coffee lover, cafe hopping is one of his favourite pastime activities during weekends.
"When I visit cafes, I like to sit around and start drawing on tissues, paper or my phone. Sometimes, I will leave my drawing behind for the next customer to enjoy it. "
7 years ago, Kent started his passion as a side hustle. After years of preservation, he never imagined being offered an opportunity by his dream company, Disney.
What made it better was Disney decided to feature his work on a Guardians of the Galaxy project for exhibition. In exchange, Kent received an invitation to the Pixar Studios in LA for a visit on their Incredibles 2 set.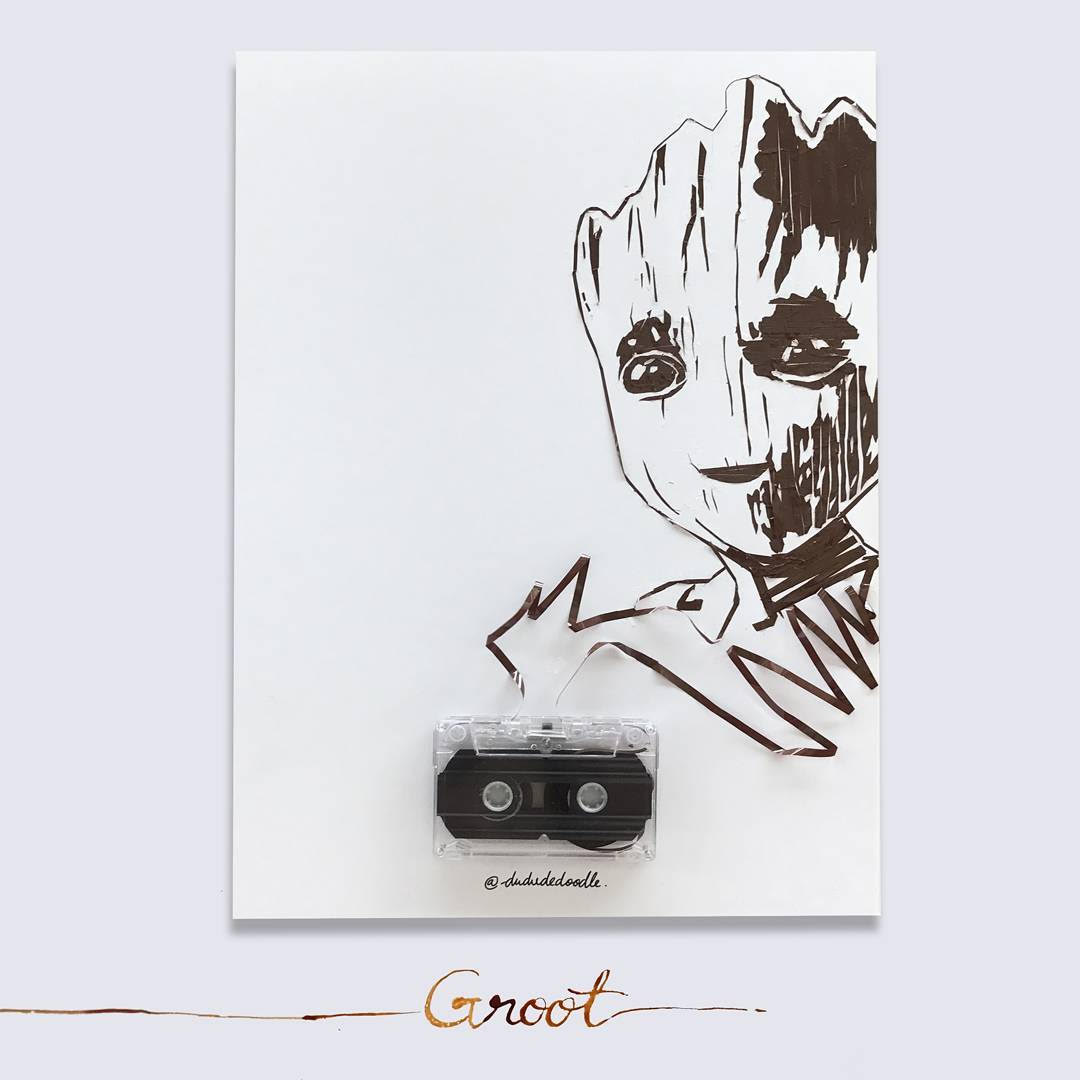 But, his journey didn't stop right there. companies like Samsung, Adobe and more has also invited him for project collaborations.
(Kent was invited by Adobe to create digital art as part of the Tiger New Year celebration. )

The question is, how did this artist, illustrator, foodie and travel enthusiast manage to attract such companies with his killer Instagram content?
✏️ Tip 1 - Treat Google As Your New Best Friend
We all know Google is our latest new dictionary in this digital era.
Everyday, Dudu De Doodle has the habit of googling ideas and inspiration. Through these ideas, he will test out, apply and assess the outcome of his work.
That's how he always get refreshing content to entertain his audience. Oh, and one important note: He even uses it to self-taught himself Adobe Photoshop.
✏️ Tip 2 - Find ways to combine what you love
Inspired by the great animation studios, Dudu De Doodle has combined animated characters with his real-life photography. Both interests are things that accompany him throughout his grown-up times.
Creating what he loves is the fuel to keep him going. It motivates him to break through each idea, art, and masterpiece he produces.
Because his artwork speaks of his passion, naturally, his viewers are amazed by his drawings and understand his love. So that becomes his focus and also his unique selling point.
✏️ Tip 3 - Scribble, draw, document anywhere anytime
A coffee lover, a travel enthusiast, and an animation fanatic, Dudu De Doodle also likes to draw inspiration from his real-life experiences. He will document his drawings on his account as a record whenever he visits a cafe. He also has a habit of leaving his pictures behind for people to enjoy them.
"To let people appreciate art, I usually create something, and I don't expect a return. This is my principle whenever I leave my artwork because their enlightenment is my joy. And I'm happy when people receive something precious for free."
So far, there aren't many plans in the mind of the imaginative illustrator. But, while he is snipping away a cup of hot brewed Americano in a cafe, he won't stop documenting his drawings and living his passion.